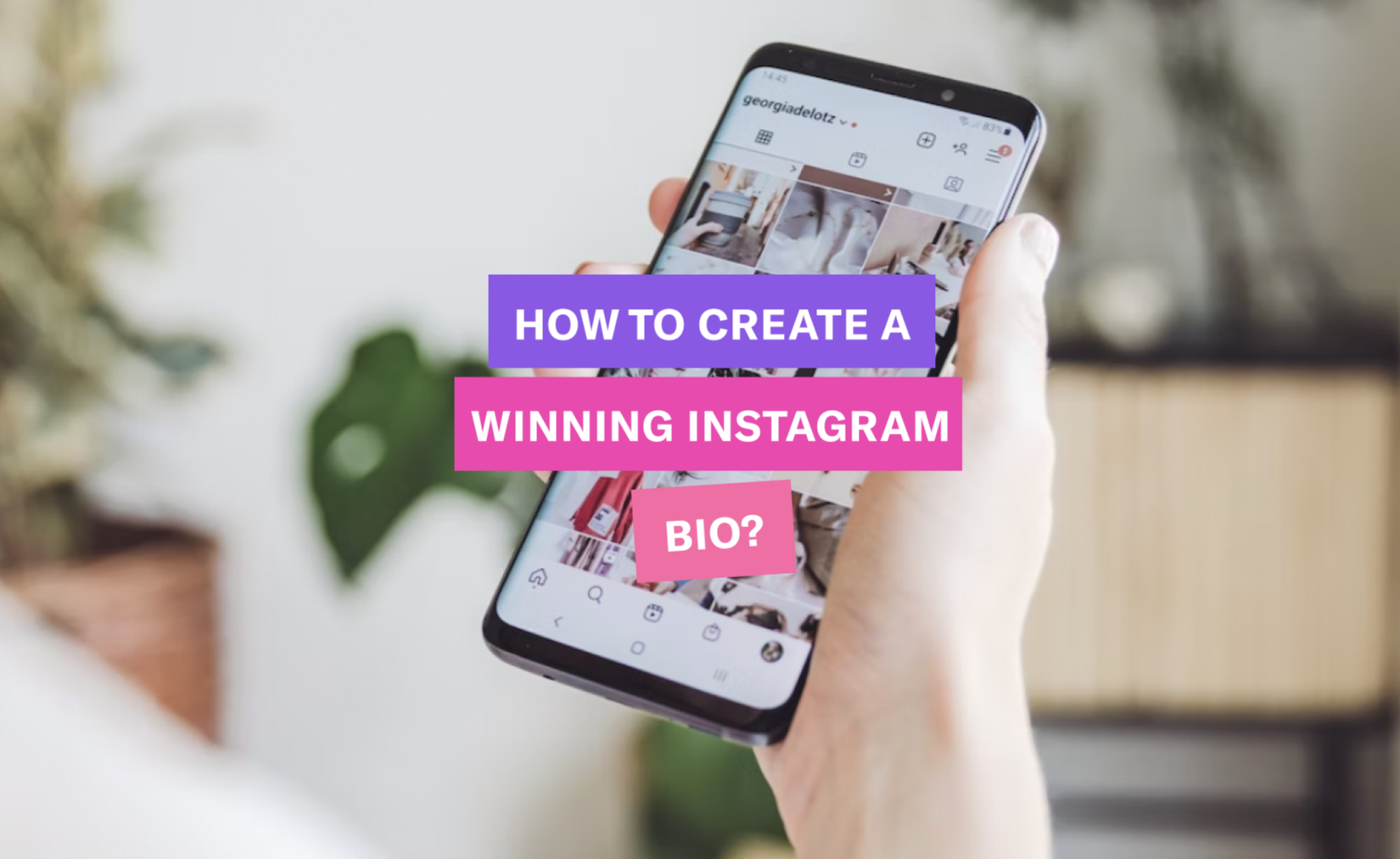 Let's start with the basics, what is an instagram bio?
An Instagram bio sits beneath your profile picture and it is used to describe your page.
This space includes:
A display name
Page category
Pronouns
150 character description
One external link
Contact information
Why does your instagram bio matter?
A good Instagram bio can mean the difference between a visitor hitting follow, or walking away. Your bio is often the first touch point for new visitors, it's the perfect opportunity to communicate who you are, and what you offer. Think of it as your first impression, so make sure you are portraying yourself in a way that reflects your personality, brand, and values.
How to write a winning instagram bio?
With only 150 characters to set the stage, the pros keep their bios short, sweet, and most importantly, informative.
Ready to learn what it takes to create a killer Instagram bio? Here are eight tactics to stand out from the crowd:
Share Your Story
Include Targeted Keywords in the Name Field
Use a Link in Bio Tool
Add a Call-To-Action and Action Buttons
Share Your Contact Information
Tag Related Accounts and Add Your Branded Hashtag
Use Instagram Stories Highlights
Choose the Right Profile Picture
Instagram Bio Idea #1:
Share Your Story
People connect to stories, this is your chance to share yours!
Whether it's a bulleted list or a few short lines, use this space to speak directly to your audience and convey your story.
In this way, new visitors and prospective customers will understand you and/or your brand, immediately.
Instagram Bio Idea #2:
Use Targeted Keywords in the Name Field
Did you know that the name field in your Instagram bio is completely separate from your username?
Not only that, it is a valuable SEO tactic to reach even more users as they search — improving your visibility on the app.
Not sure what keywords to include? Take a moment to brainstorm keywords your audience might search for on Instagram. This could be your niche, products you sell, or the location of your business.
Instagram Bio Idea #3:
Use a Link in Bio Tool
Your Instagram bio only allows one external link, so it's important to be strategic about how you use it.
Enter: LinkTreee
With Linktree, you can create a landing page with unlimited button links.
Instagram Bio Idea #4:
Add a Call-To-Action and Action Buttons
If you want your bio to generate engagement, just ask!
If you're offering a promotion, a resource, or want people to subscribe to your newsletter, let your profile visitors know.
Whichever CTA you choose, remember to be specific, clear and direct.
Another way to encourage more actions on your profile? Action Buttons!
Depending on your account type, you can use: Book now, Order food, Reserve, Get quote, or View shop.
Instagram Bio Idea #5:
Include Contact Details
If you want your profile to be the go-to-place for all things you and your brand, make sure you make it easy for your audience to contact you.
The best way to do that? Switch to an Instagram business profile.
This will allow you to include your email address, phone number, and WhatsApp without sacrificing any precious space.
Another way to save space? Include a business or brand category, it will appear underneath your name field and let your audience know exactly what you do.
Instagram Bio Idea #6:
Tag Related Accounts and a Branded Hashtag
Did you know? Profile usernames and hashtags included in your Instagram bio are clickable links.
This gives you the ability to promote sister brands, highlight a founder's Instagram account, or drive traffic to a brand hashtag.
Please note, using hashtags in your Instagram bio doesn't make your profile discoverable via hashtag search. But it is a great way to collect user generated content!
Instagram Bio Idea #7:
Use Instagram Stories Highlights
Many people do not consider Instagram Stories Highlights a part of their bio.
But you should! They're perfect for sharing valuable information about your brand, your services, and showing your personality.
To elevate your Stories Highlights, create branded covers to ensure a consistent look and feel.
Instagram Bio Idea #8:
Choose the Right Profile Picture
You've spent a few hours crafting the perfect bio and carefully selecting keywords, CTAs, and hashtags. Now is the moment of truth, you need to choose the right profile picture. When considering your options, please keep in mind that this picture will set the tone for your profile.
Quality is key here, be sure to choose a clear, high-resolution image.
We hope you found these tips helpful!
Want more Instagram tips? Make sure to subscribe to our mailing list!